Secure payment
Payment methods
We accept all regular payment methods although some depend on your delivery address: bank card (SSL), PayPal, wire transfer or IBAN (EU), chèque (France).
Confidentiality
When paying by bank card none of your details are received nor stored by our web site. The payment process is 100% secured and provided by our bank BNP PARIBAS. The payment step establishes an encrypted session directly between your computer and the bank.
Anti fraud
If eligible, your bank card is further protected by the 3D SECURE system. In which case your bank will ask you for a confirmation code that only you can know. Generally a temporary code sent via SMS at purchase time, otherwise your date of birth.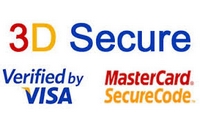 PayPal
You may also pay with your PayPal account if you have one.